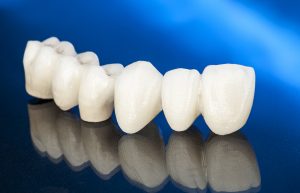 If you are missing a tooth and not a candidate for alternate replacement options such as bridges, then dental implants are the solution for you. As the name suggests, dental implant restorations are used to replace missing or infected teeth with fully-bone supported implants to restore missing function and improve your smile.
To begin treatment, we will determine if dental implant restoration is the best option for you. Factors such as oral hygiene, the location of the missing tooth gap, bone strength, and long-term viability for implants will all determine your treatment plan.
There are two parts to the dental implant restoration procedure: implant placement and crown placement. During the first procedure, we will begin by placing a titanium implant through your gums and into the bone where the tooth is missing. This serves as a replacement for the root of the tooth to allow you to eventually regain full function and bite strength. This implant bonds with the bone to create a secure, anchored point to attach a crown which replaces the visible portion of a tooth.
At this time, impressions will be taken to ensure the crown is crafted to fit the shape and size of the gap between the surrounding teeth. Then, the crown will be placed onto the implant filling to fully restore your smile. Each crown is designed specifically to match the current color of your surrounding teeth and shaped to provide the best look and feel.
During your procedures, you won't feel a thing as we will use a numbing shot or local anesthetic to keep you comfortable and pain-free. After the operation, you may experience some soreness which can be easily treated with ice, rest, or any prescription medication we discuss with you during your appointment. With proper care, your implant restoration will be a permanent solution to replace your missing tooth and improve your dental hygiene.
At Whiting Dental Center, we are dedicated to providing best-in-class dental services such as dental implant restoration to ensure your oral hygiene is the best it can be.
For more information on dental implant restoration or to schedule an appointment, please don't hesitate to contact us today at (732) 350-9494.